THE RHINO SERIES OFFERS HIGH QUALITY EMBELISHMENT OT MAKE YOUR PRODUCT STAND OUT
Leading technology for brilliant decoration
Perfect embossing results on uncoated, structured papers due to high stamping pressure and zero tolerance foil embossing
Crisp, high embossing that lasts
Longer dwell time, lower temperature, higher brilliance
Small cost effective tools: quick setup
Consistently designed for performance and economy
Quick setup of initial job – no foil cut needed
Quick setup of repeat jobs – no finetuning required due to "job saver plate"
Small, cost effective tools – No format parts
Multifoil designs in single pass
Two foil saving patterns optimize foil saving
RHINO SERIES EMBELISHMENT OPPOUTUNITIES AT A GLANCE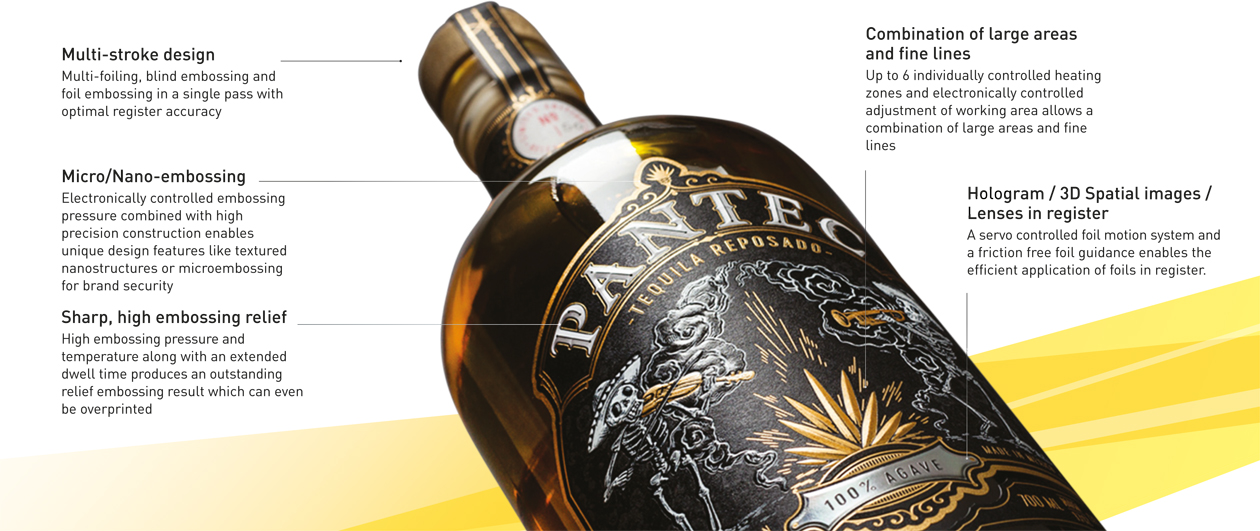 Multifoiling and registered foils for outstanding designs
Lenses, 3D spatial effects and holographic foils are among the latest developments in label and packaging design. These unlock completely new design possibilities but only work if applied in perfect register.
Multi-stroke = Multiple foils and embossing
RHINO™ enables the application of different foils in register using one tool. It´s even possible to emboss the substrate itself or just the foil to enhance its effect.